This is a collection of idea's and thoughts .These are ideas that I think would be good ideas, and what I would do.
Some of these ideas might already going to be implemented, and I'm not aware of that
Table of contents
1. Warp gates
2. Infantry
3. Armour and Air
4. Different species
5. Customization
6. Tech tree
1. Warp Gates
The first one is the warp gate, and i know, ya warp
gates of course there going to be in the mod. This
isn't about that, it's about giving newer servers a
chance by making it that they can't go to another
server, and another server can't go to them, until
they build a warp gate (which would have to be fairly
cheap, even if it normally it wouldn't in real life), after that they
will be open to all the dangers of space, so untill
they are ready to face it, no one will be able to
attack them untill they're ready.
2. Infantry
Infantry, they are as old as warfare it's self and no
matter how advance thing will get, infantry will always
there, so lets see how advance they will be in this
mod. I'm going to break it down into sections.
1. Armour
2. Weapons
3. Organization
4. Robot roles
5. Mobility
1. Armour
Armour, the more protection you get the less mobility,
and the more mobility the less protection, and for the
sake of balance it should still follow this.
Heavy armour would have less mobility depending on
the level of protection, and this should work the
other way around, so a recon unit with light armour
should move with out mobility restrictions, but less protection.
As the server increases armour, the heavier armour would
get more mobility, with things like exo skeletons.
and light armour would have more protection,
and increase mobility, with faster moving, and jumping
higher. While heavy armour would be able to move
more closer to normal movement, or even higher then
normal, and they both would have a armour increases.
I'm not forgetting the armours in the middle, I'm
just doing thing from both ends so you can imagine
how every thing in between would be.
2. Weapons
I'm not talking about turrets on ships, or any
mountable weapons, I'm talking about the handheld
weapons.
Note that the weapons are kinetic based, which means
they fire heavy, dense projectiles at high speeds using
magnetic rails. Laser weapons would be to impractical
for infantry weapons, but they would be
used as big bulky weapons, with large battery packs
and should be equipped to heavy troops.
The guns should be customizable, with different
attachments, that should be changeable. They should
have spread, not to much like flans guns (which is just
horrible), but a slight spread. Stats should differ
from different guns, with some with higher damage, or
less spread, or drop (being snipers), also more higher fire
rate, and mobility which would be the heavier the gun
the less faster you can move, or move it around, like the
laser gun i was talking about early would be heavy and
slow to move around, unlike a pistol.
Weapon ideas
I would post some kind of a concept art of the weapons,
but I 'm not a good artist, and if I did any ways it wouldn't
show what I'm imagining. Also I don't know how people
name guns, so these aren't the real names, just place holders.
HIHL-Handheld Infantry Heavy Laser
This is my idea for the heavy laser gun I was talking
about earlier.
In the lower tiers it would have a smaller battery pack,
and fire in short bursts, cause it would overheat the
barrel if the firing period was any longer.
Now i haven't thought of all the tiers, but they would
increase in battery storage, power of the gun, and
efficiency of the gun.
The final tier would have a large advance battery, so
that it would able to have multiple barrels firing like a mini-gun,
so it fires much more rapidly with out draining the battery pack.
MPIL-Multi Purpose Infantry Laucher
This is a launcher that launches rockets and missiles. It has
a function which let's you type in the block distance,
then it will give that information to the warhead, that make it
explode at the distance given, even if it doesn't hit anything.
MRAW-Mobile Rocket Artillery Warhead or Raining Hell-fire
Now this is something to be feared it gives massive fire power
into the hands of a lonely soldier.
It works with the MPIL. You have to type a distances into
the MPIL, and the missle will arc on that point till it's directly
90o over the target distance, then from the sides the missile
will open up with smaller rockets pointing downwards, then the
rockets will launch downwards into the area surrounding
the set distance with a raining hell-fire. So it basically
gives you a handheld rocket artillery.
But this can be countered (and I probably should of put this in the armor section).
I call it the umbrella, its basically a sheild that
shields projectiles from above, and a larger version can be fitted to armour (tanks and other).
Here's a concept pic of the rocket I made in Minecraft.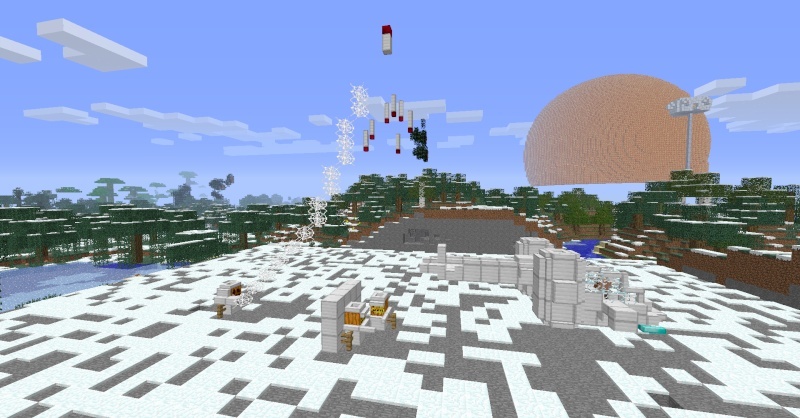 That's really it so far. I haven't thought of more, but if more
come to mind, I might post them.
3. Organization
Well I put organization because I couldn't think of the right word for this at the time,
but I will explain it like this, in a gun mod you can basically be a
walking armory, I think there should be a menu like the inventory,
but for weapons and armour, the armour would be like the one in
the vanilla inventory with head, body, legs, and feet but it will also have slots
for accessories, what those would be i don't know, use your imagination.
For the weapons, to prevent soldiers from being walking armories,
have guns be unusable if there not in the weapons slot, and the weapons
slot would have a main gun slot, a side pistol
slot, and a secondary launcher, or if u have a heavy sniper or lmg
then they would take up both the main gun and primary launcher spot,
and the ammo you would used would also have slots, so if you want
more ammo for your main gun then don't use a launcher, and you can
switch to your pistol faster then your other guns like most military shooters,
and it will make pistols useful.
4. Robot roles
Robots have assigned roles, ex sniper, heavy, assault,
at, aa, ect, and medic/engineer, which can help robots and
players.
Also they can near noise so you have to be stealthy to get by one,
and if they die they don't alert other like a player would
which would make stealth game play possible.
5.mobility
Basically something like smart moving, but with better crouching,
and jumping in the water would make a splash which would alert robots,
but a dive would be more quiet.
That's it for infantry.
3. Armour and Air
I'm going to start off armour with saying CONTROL, make sure its not like
flans mod, which is basically a land boat with a big gun, and I'm
using that term "big gun" loosely, ( I'm not a big fan of flan, his mods
could really be better, but he's the only one with those mods)
and missile slot one the two sides of the turret, that locks on to aircraft and other armour.
This is a list of the kinds of vehicles there should be,
and some of theses like the tank, that know it's going to be in the mod, I'm not suggesting it,
it's just there so its doesn't look like I'm not including it in the vehicles.
There are also concept pictures of the vehicles I made in Minecraft.
Main battle tank-
Heavy Tank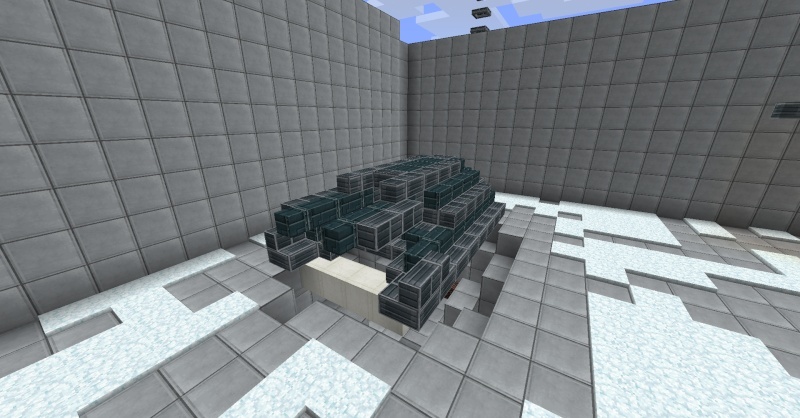 Top view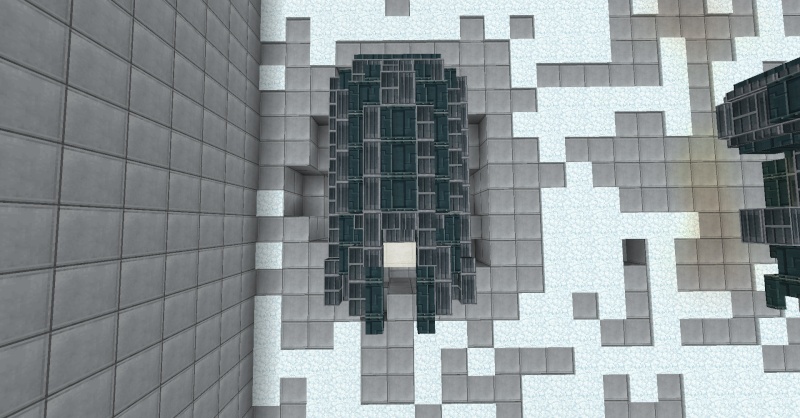 Light tank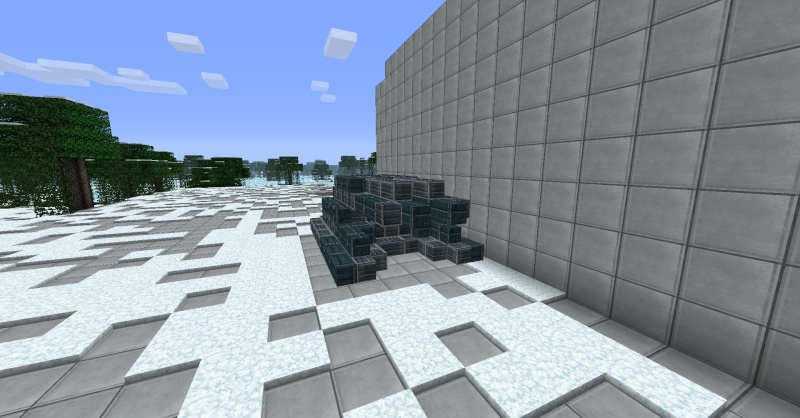 Top view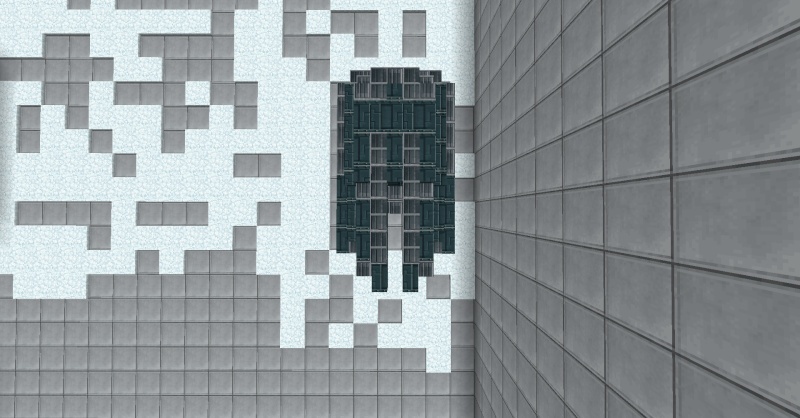 APC- Smaller gun then ifv but more passenger capacity
maybe like the thing in battlefield 2142 that can launch drop pods.
IFV- Bigger gun smaller smaller passenger capacity.
Smaller personal carryer- Similar to a humvee in a way,
and can be change able to suit different situation like
aa, or at.
Mech-
Light Mech- Has arms ,lighter armour, less fire-power,and more agility.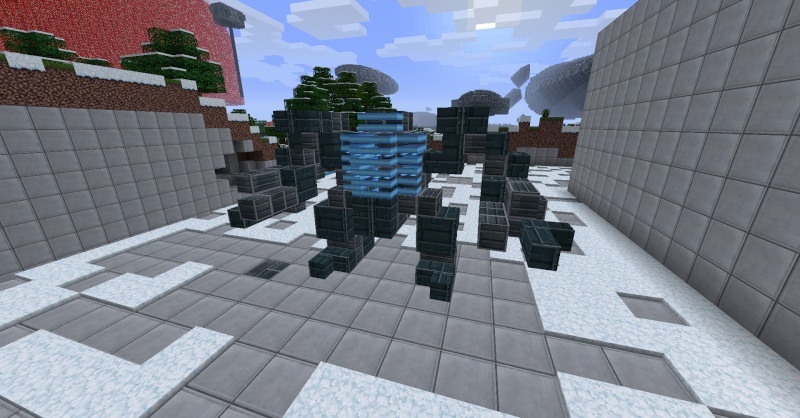 Top view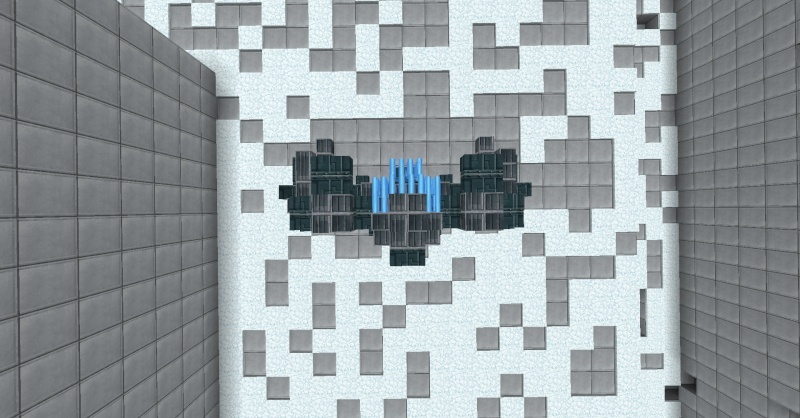 Heavy Mech- Has Heavy armour, More fire-power, and less agility.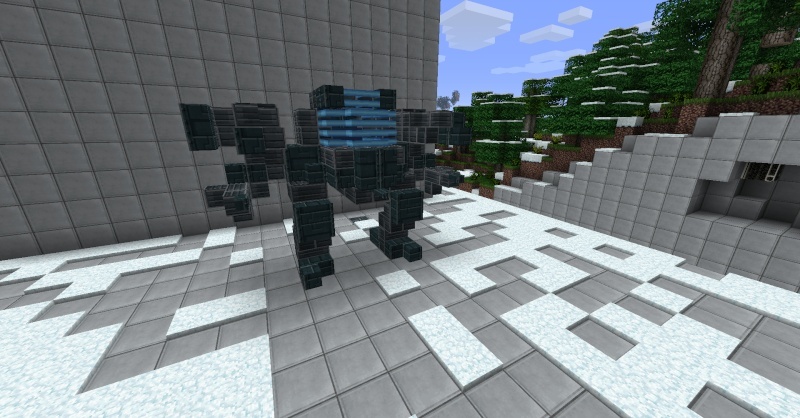 Top view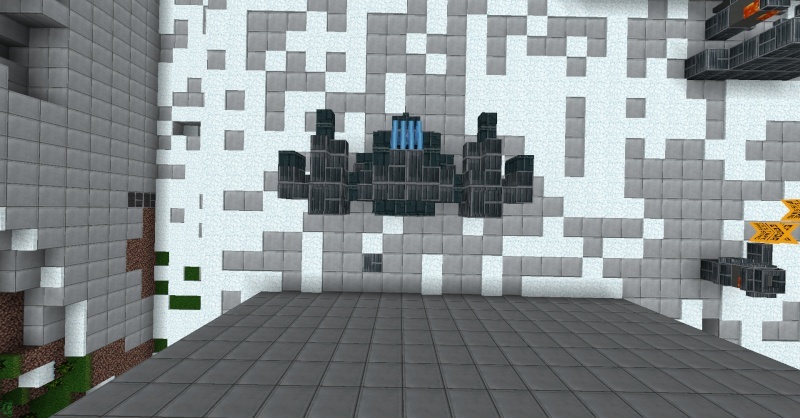 Different utility vehicles
Walkers-A tanks or apc with legs or if tanks/apc was fused with mechs, can get to place tank or apc's can't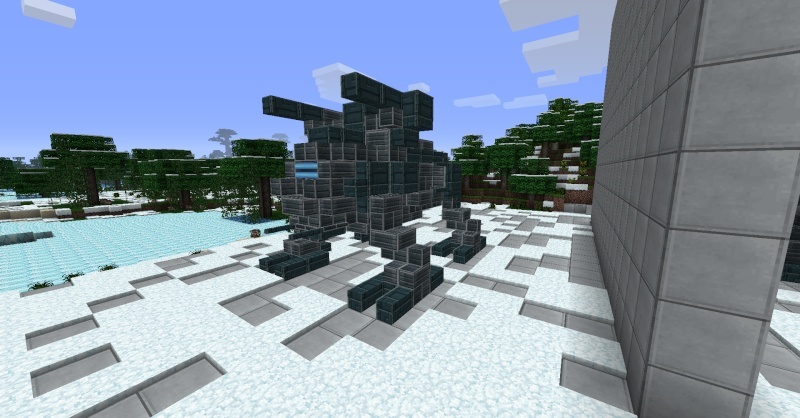 Top view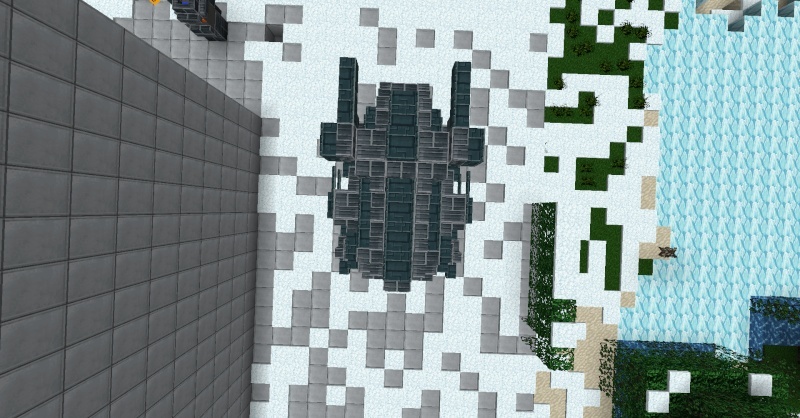 Tiers.
Hover capability's that come later in the tier tree,
and maybe the laser cannon or kinetic cannon on a vehicle has
more barrels that rotate, for increase fire rate the more higher the tier.
Air
I'm not going to be going into fighters,
mostly just a gunship. This also has some concept pictures
I made in Minecraft.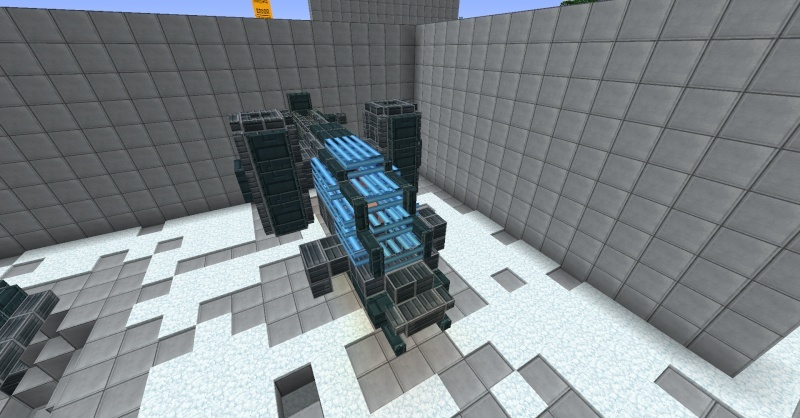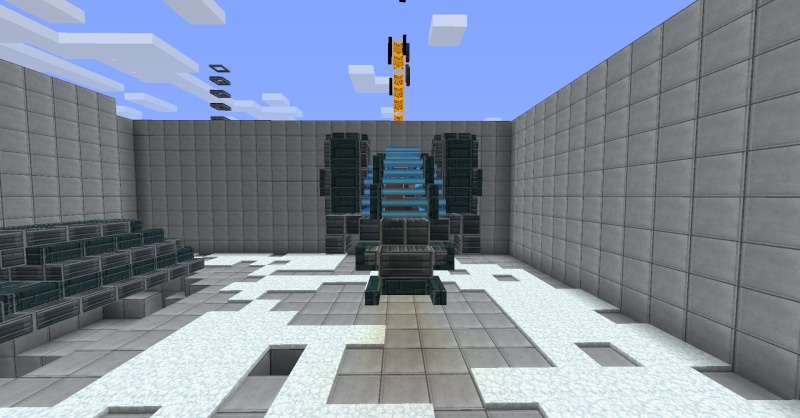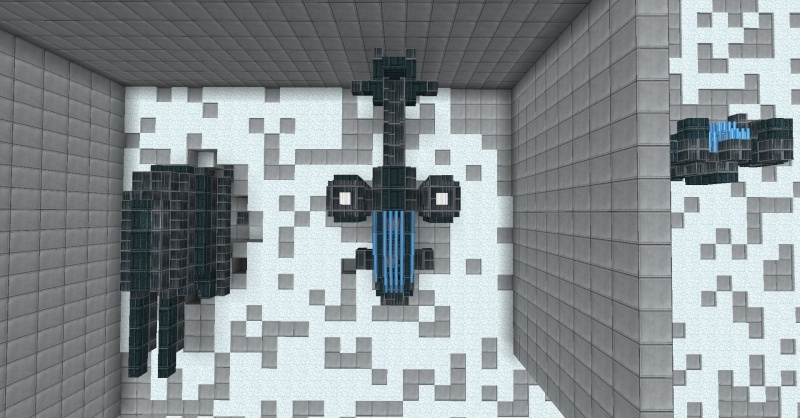 The gunship would act like a helicopter, but can be switch
to a jet type mode by rotating the the two engines,
( a picture of how i think it should look like
is on my ship design post, also a tank is there to) which makes it move at much more faster speeds.
The armament's would have a kinetic rotatable gun at the front, like the chain gun on most attack helicopters, and
this would also be able to fire a laser also, and the ship would be fitted with missles which are located on the inside of the craft.
That's it for armour and air.
4. Different species
Okay as it is right now every one will look the same,
and if there are planets that have never had contact with each other, why are
they the same species. So what i'm am saying is have different models of diffrent
alien species maybe 3 or 4, that the admin of the sever can configure to which species or just keep it the vanilla model.
5. customisations
It wouldn't make that much sense if a species attacks another species that
never had any contact with any other races, but has the same air and vehicles.
So what i am suggesting is user made models and skins that the admin can add to his server.
The models would just make the air and armour look different so two of the same tanks may look different but they would be the same tanks in every way
just they would look different and give the servers some uniqueness to them.
Also if something dies there body falls, but they don't become red, and disappears, there body stays there.
6. Tech Tree
Now I don't know how you guys are going to do the tech tree, and tiers, but this is how I think it should be, and maybe that's
what's planned, but as the top of this post says I may not be aware of that.
Okay so all servers start off at level one, and they gain experience by doing stuff that's in the mod, as in mining, destroying ships, and capturing planets, etc,
and when you gain a level you get a research point. You can place these points into a tech tree, so you cant go to the final tier in like engines until you
unlock all other engines, and also you have to meet the required level for that tier.
Also mabye if the server is at a more higher level, them they would get more then one
research points.
That is all my ideas and thoughts so far.