So, well I thought about some things, and I figured a ton of them were kinda ambiguous. In my attempt to input my ideas for each feature, I realized I was cluttering up Mackeroth's Banhammer thread with irrelevant info, so I'll just post my stuff here instead. So.
Factions
When you join a server (solar system) in Futurecraft, you'll spawn on their home planet. If they're already developed, you can then proceed to join a faction, as systems will only be capable of registering a certain number of factions in their name which will probably all be taken up at that point. Going onto that, if a server is starting anew, you can likely then start your own faction. A GUI will open up where you can upload a png of your faction's symbol. For sake of user friendliness, this GUI will be openable at any other time with the 'F' key, where it will list your members and name (which cannot be changed after the initial creation).
Anyway, once this is done, the server asks the server owner via console if this is OK, if it is the server will then discreetly submit your faction's data to the Futurecraft Master Server, who takes the file, nods, then sends the server's runner back with a confirmation. Once the runner is gone, the FMS takes a look at the file and says "Harumph, another PeN1$izGOD faction. Well, whatever, if they want to waste a faction slot on that, so be it." He then marks down that faction on that server's roster, which as mentioned only has a limited amount of spaces for them. The FMS will then send a copy of that roster to the server every so often, who will sorta stare at it for a while then submit it to its own encrypted database. When all the slots are full your request to make a faction will be denied. You must then either join an existing faction or wait for one to die out.
And speaking of dying, when your faction gets new members your ManPower count raises by 15 per member. When a member is killed, your faction's ManPower is reduced by 5 per death. So it'd be less than ideal to have a warmonger in your faction, give 'im da BOOT. Anyway, once your ManPower count is reduced to the negatives, your faction simply ceases to exist, at which point every member is discharged back to your server's homeworld's spawn, where you can try to quickly make another faction before someone else takes the slot, or join another one. This process applies to factions everywhere, be it in space or on land or in another solar system.
Servers & Solar Systems
When a Futurecraft server starts up, it will generate a Solar System which will register with the Futurecraft Master Server, as, you know, existing. From here, it will randomly choose a home planet in the system, which players will then spawn upon. As per Mackeroth's scheme of things, players will then progress through various tiers of tools until they are capable of building mighty starships and orbital cities. Now, bear in mind a server's populace can happily play without ever building a gate, fighting wars between their factions in their own little isolated corner of the galaxy, but should they choose the dominant faction may be able to construct a gate, opening up the solar system to intergalactic commerce, but also war. Let's go over the basics of warfare, shall we?
When you get invaded by a superior faction, or you invade another faction's system, you/they could either choose to submit to the invaders in order to save their your hard work, or fight to the bitter end until your faction's ManPower points run out, at which point that solar system will be transferred to the conquerer's serverbox, of course inducing new stress on it, meaning these conquerers can only subjugate a certain number of systems by wiping everyone out, then they must seek more...conservative methods of gaining new land such as offering treaties, assimilating the conquered, etc. Perhaps this will also mean new factions entering the game will know to keep their 'genocide cards' close to themselves, instead doing the aforementioned while only committing widespread slaughter when absolutely necessary.
Now, you're probably thinking, "Well, wouldn't this mean we'd only have a handful of uber factions?" The answer, is yes. And this is good, as these factions will wage war against one another, recruiting smaller factions for assistance. The result is a perpetual state of war, which is ideal for what I think Futurecraft is achieving (There is, after all, only one use for the battleships people have been constructing) In the end, these ubers may fracture into several factions, which will then form alliances and create new ubers, and so forth. Alliances and Conglomerates will be key, as it's likely one faction will not be able to stand up against a larger one without assistance.
Well, what of the solar systems? Will these change hands during the war of the ubers? Some thought is required here. If the Ubers have their alliances and whatnot, it will be hard to discern who will gain control of a particular solar system. This may lead to more internal strife, which is good, so I think that if a majority of ships belonging to one faction are in one system for a period of time, it is re-allocated to the server that group registered with. This process would consist of the conquered server pinging that of the conquerers, asking whether or not they could handle the new property. If the answer is yes, the server would then hand the files over. If the conquerer's server has already reached its maximum of solar systems, the conquered server will sorta shrug its shoulders and host their new property in their name in parallel with the new one for the victims of the assault temporarily.
If space is still not available on the other server after a certain period of time the system will become neutral again, having a red icon next to the name on the list of locations to jump to on any Gate GUI. Basically, it will apply a debuff to the invaders mooching off the victim's server's resources, enabling another faction to catch them with their pants down and hopefully take control of the solar system, re-allocating it to their own serverbox. If not, the above procedure occurs again. On the third time, if the new/old conquerers can still not host the new system, the server hosting it gets frustrated and adds a twist: a timer will appear on the HUD of anyone in the system indicating time remaining before the star goes supernova. To compensate for the rush, the server will also spawn twice as many mineral resource asteroids, tempting the invaders and possibly causing their demise as the clock hits 0 and everyone still in the system sees a massive flash, and suddenly...nothing.
Once this is finished, the server breathes a sigh of relief and purges the solar system's files, and business as usual occurs anew.
The victims of the blast would then respawn in their faction's base on the system they registered with, but shipless.
Moderation and Distribution
I do not believe there should be any moderation, save for the original dev team, whom will become 'admins', of sorts. These dev-admins will be capable of traveling to any solar system regardless of whether they have a gate, and will be entirely invisible but carry no weapons. From there they can observe new servers and how they act, and if they are suspicious of illicit activity they may call a vote with the other dev-admins and ultimately decide whether or not to disconnect the server from the futurecraftverse. Why would the server owner be under such scrutiny, you may wonder. Well, my idea is that, similar to many revolutionary and premium quality mods, Futurecraft will not be parceled out freely, at least not entirely. Instead, while server owners will be able to download the mod and host a solar system, they will need a special passcode to connect to the Futurecraft Master Server (enabling gates, etc). Server owners will need to submit an application to the dev-admin team in order to get one of these codes.
The process after an application has been accepted will likely consist of the dev-admins conducting some sort of integrity check on the owner's server files to ensure no alterations have been made, viewing the server's solar system to affirm that there have been no edited changes and such. From there, the server will be linked to the Futurecraft Master Server, which itself will incessantly initiate integrity checks on each server's files daily. If a server is found to be in violation of rules, their passcode and server IP will be banned from the system.
Artificial Intelligence
Ah, touchy subject here. Why, you might ask? Well, while A.I do exist, man has yet to completely emulate a sentient being within computers. Those sort of unfinished AI are referred to as V.I, they are competent, but not entirely perfect. It may take 4 to run a ship where only 1 A.I is needed. But a true A.I cannot be made using machines. No, the very fabric of sentience must be ripped from the mind of one who has it...and survival is not guaranteed for the donor. To make it all the more controversial, the majority of A.I's are constructed from females of the species, as it is believed they have a higher chance of living through the procedure.
Why sacrifice the living to make but a program?, you might wonder. Well, A.I are capable of interfacing with a ship's systems on a higher level than conventional engineers, and can even pilot them singlehandedly should the need arise. Anyway, they are extremely expensive and require extensive infrastructure within a vessel to operate at peak efficiency. But, on the flipside, you can probably halve your crew count with the use of an A.I, reducing the need for consumables. These A.I can be customized with different skins that are uploaded to the server via some form of GUI. Once properly seated and installed, the A.I can then be issued orders by merely speaking within a set radius of its console, using keywords, similar to NPCs, to properly discern what the player needs it to do.
Shipyards
You'll launch a ship with a Hub, but after this you'll have to launch up portions of the station, like the modern day I.S.S. This will give you a simple station to work with for defense, pictures of your planet, etc. At some point you'll construct segments in Zero G with your space suit of awesomeness. This is where the fun comes in - in order to have a fully functional constructor, you must craft a core of sorts. In theory, 1 Tier I core can handle around 300 blocks. Building these in a formation to look like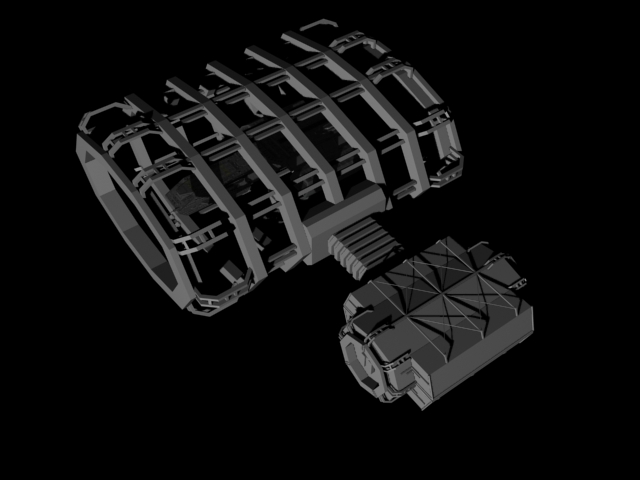 or
Would in the end be more efficient, as the cores would overlap and prevent anomalies (heh, heh

)
Yes, these aren't perfect. Using a single core to construct 300 blocks is like using one piece of coal for cooking 8 meat - it doesn't always work. It'll be minor, perhaps. A block here, a block there..and pretty soon it isn't airtight anymore. Not a good first impression to your customer - in fact, you might not be expecting any further business from them (literally).
You'll notice I said 'Tier I core' up there. My suggestion is that there are 3 tiers of core that get progressively more expensive to make, but also are capable of making more blox, and perhaps Tier I & II won't be able to create certain types of blocks.
Tier I: 300
Tier II: 500
Tier III:1000
As for time, think about how long it takes you to build a ship in creative. Then think how much time it'd take to build that in Survival. The latter is how much time the ships will take to build. It'll be lengthy, yes, but being able to focus on other tasks makes it worth it. In addition, you MUST have twice the amount of materials necessary in order to construct a ship in this here shipyard, as machines can make mistakes - better safe than sorry. You can collect the remainder afterwards and put it to use again in conjunction with more materials.
Lastly, how does the shipyard construct these ships? First, you build the ship in your shipyard. If you couldn't build it yourself, you sure as heck don't have the right to mass produce them. Thus, I suggest a sort of Central CPU Core would be installed that would //copy your creation to it's memory, provided there are enough Cores in the area you build it in. Another thing would be Console blocks, which could be used everywhere in this mod for a variety of things. Wiring a Console block to some Shipyard Cores will in essence create a virtual shipyard, and right clicking the associated console will bring up a GUI with the ship types the Central CPU has saved to memory. If there aren't enough cores or materials in that certain Shipyard, it will notify you. You CAN still build a ship with less cores, but it will be incomplete, as in missing some blocks.
Logging in/Logging out
If you are the sole commander of a craft, the NPCs aboard will attempt to return to the nearest friendly starbase, ignoring any nearby foes. Simple.